E-Box
2 634,00€ – 3 126,00€ TTC
With an integrated LiFePO4 battery, the E-Box offers you an all-in-one solution for your vehicle's energy autonomy.
Specially designed to fit under the passenger seat, this battery covers all the electrical needs of the adapted cell while taking up minimal space.
Setup Detail:
Battery: 120Ah
Charger DC-DC: 50A
Charger AC-DC: 20A
Solar charger: 20A
DC-AC converter: 1500W or 2000W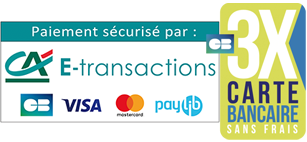 Your partner for the energy autonomy of converted vehicles and vans.
Are you a manufacturer? Van developer or simply passionate and handyman?
We have the all-in-one solution for you!
We manufacture à la carte, according to your energy needs and the dimensions available in the vehicle, a box with the modules already integrated. All you have to do is plug in!
Configurable and upgradable
In order to offer the greatest autonomy to your vehicles, we offer several charging solutions:
via motor (DC-DC 50A buck-booster EURO6 compatible),
via mains (12V-230VAC 20A charger),
via solar (MPPT 20A).
Inputs / outputs:
3 x 12VDC (motor, solar, cell)
2 x 230VAC (grid, cell)
As an option, we can also integrate a 230VAC power supply management card (converter cut-off when the 230VAC mains is present).
Features
Fully integrated
A single box containing the LiFePO4 battery, the DC/DC charger, the AC/DC charger, the MPPT solar charge controller and the DC/AC converter.
More powerful and longer-lasting
Provides twice as much power as a lead battery while maintaining a high energy capacity. Up to 2500 cycles at 0.5 C charge and discharge.
Wide temperature range
Operating temperature ranging from -20 °C to 60 °C.
Power supply prioritisation
Thanks to the Box ACE Energy's built-in power prioritisation board, you can automatically manage the 230VAC power supply when the vehicle is connected to the power supply via the external outlet.
Communication
Control the battery charging level and status via a dedicated mobile app.
Additional information
| | |
| --- | --- |
| Weight | 25 kg |
| Dimensions | 35 × 37 × 21 cm |